Amey Daldy was woman of radical views for her age and time. Her legacy is that of a bold and powerful champion of equality.
Amey was born in Northamptonshire, England and arrived in Auckland with her brother John in October 1860. In 1865, she married William Henry Smith, who died in 1879. In 1880 she married the widowed William Daldy.
Having no children of her own, Amey and her husband took responsibility for William's eight orphaned grandchildren. Aged from three to 19. the Daldys placed the children and a housekeeper in a house next to their own home in Ponsonby. Amey took up the role of grandmother to the family.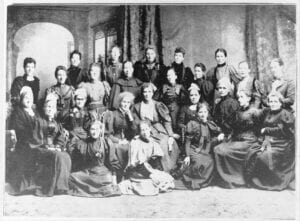 Guided by her Congregationalist beliefs, she became an important civic leader and advocate for equality. She was a founding member of the Auckland branch of the New Zealand Women's Christian Temperance Union. And in 1893, she became the founding President of the Auckland Women's Franchise League. A formidable debater and speaker, Amey could be seen driving her buggy down Auckland's lanes with her grandchildren, collecting signatures for petitions on women's rights and arguing her position to local businessmen.
Supported by her husband, Amey was a tireless and fearless champion of women's rights, working for the equality of men and women politically and financially.
Amey DALDY
Died 1920
Block A, Row18, Plot 009