Thomas Allen Curnow is one of New Zealand's most important writers. 
Allen was born in Timaru on 17 June 1911, the second son of Tremayne Curnow, a second-generation New Zealander, Anglican priest and enthusiastic amateur poet. His mother, Jessamine, was the immigrant daughter of a single mother—Rose—who lived with the couple until her death.
After graduating from Christchurch Boys' High School, Allen enrolled at St John's College, Auckland with a view to becoming an Anglican priest like his father. He did very well indeed, earning the top score in the national theological examinations of 1933. 
While pursing a bachelor's degree at Auckland University Allen met some important influences, notably, future philosophy professor and author R.P. Anschutz, and R.A.K Mason, who was already a noted poet and future Communist leader in New Zealand. 
It was during this time that Allen began writing poetry for the student magazine, Kiwi, and for the literary journal, Phoenix. He published his first collection of poetry, Valley of Decision, in 1933. In 1935 he became a reporter for the Christchurch Press while continuing to publish poetry, having decided not to accept a post in the Anglican Church.
During his time working in Christchurch, Allen began to write satirical verse under the pseudonym 'Whim Wham' for both the Christchurch Press and the New Zealand Herald. His topics covered notable personalities, politicians and the quirks and foibles of New Zealand life. This work represents Curnow's dissatisfaction with the traditional church and with political life in general and is often critical of aspects of residual colonialism and an over-attachment to English customs and identity that he observed in New Zealand.
His poetry, however, reveals a deep spirituality that expresses his questioning outlook, his deep-seated religious training and his unease with it, and also a profound connection with nature. In particular, his poetry takes on an added depth after the outbreak of World War Two, often exploring the nature of New Zealand's relationship to the world, as can be heard in his 1943 poem, Discovery. 
Compare, compare, now horrible untruth
Rings true in our obliterating season:
Our islands lost again, all earth one island,
And all our travel circumnavigation.
During this period, Allen remarked on the role of writers in contemporary New Zealand, saying that, quote:  "Strictly speaking, New Zealand doesn't exist yet, though some possible New Zealands glimmer in some poems and on some canvasses. It remains to be created—should I say invented—by writers, musicians, artists, architects, publishers…."
In 1951, Curnow took up a lectureship in English at Auckland University College, making his home in Takapuna, overlooking Shoal Bay. He went on to become an associate professor in 1967. In this capacity he introduced New Zealand literature to the curriculum for the first time.
Curnow's Collected poems appeared in 1974 and he continued to work and travel abroad throughout his later years. It was while he was overseas on his last sabbatical leave that Allen's last collection of poems, the award-winning The Bells of Saint Babel's, was published in 2001.
Allen was twice married: first to Elizabeth "Betty" Le Cren in 1936. And then, after his first marriage was dissolved in 1964, to Jenifer Curnow (née Tole), a scholar of Māori culture. Allen and Betty had a daughter and two sons.
Thomas Allen Monro Curnow died on September the 23d, 2001 at the age of 90. Sir Paul Reeves conducted his funeral service at and he was buried at Purewa Cemetery 
SOURCES:
Terry Sturm. 'Curnow, Thomas Allen Monro – Early life', Dictionary of New Zealand Biography, first published in 2010. Te Ara – the Encyclopedia of New Zealand, https://teara.govt.nz/en/biographies/6c1/curnow-thomas-allen-monro (accessed 7 July 2023)
Wikipedia: https://en.wikipedia.org/wiki/Allen_Curnow
Alex Calder, Unsettling Settlement: Poetry and Nationalism in Aotearoa / New Zealand. Originally published in Brook Thomas, ed., REAL: Yearbook of Research in English and American Literature 14, Literature and the Nation (Tűbingen: Gunter Narr Verlag, 1998): 165-81.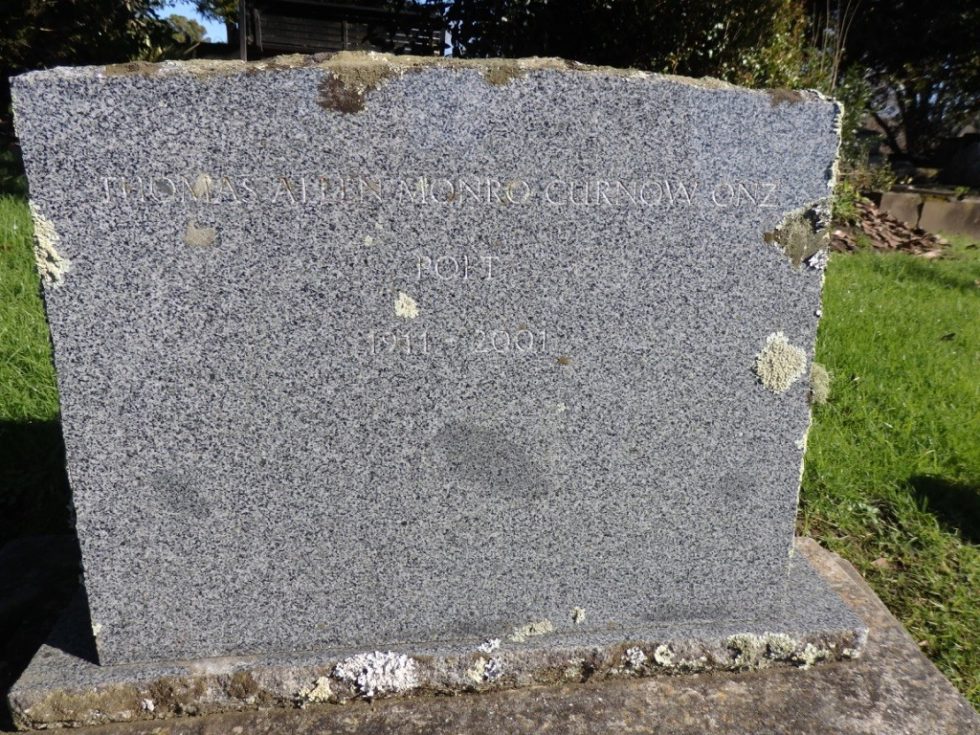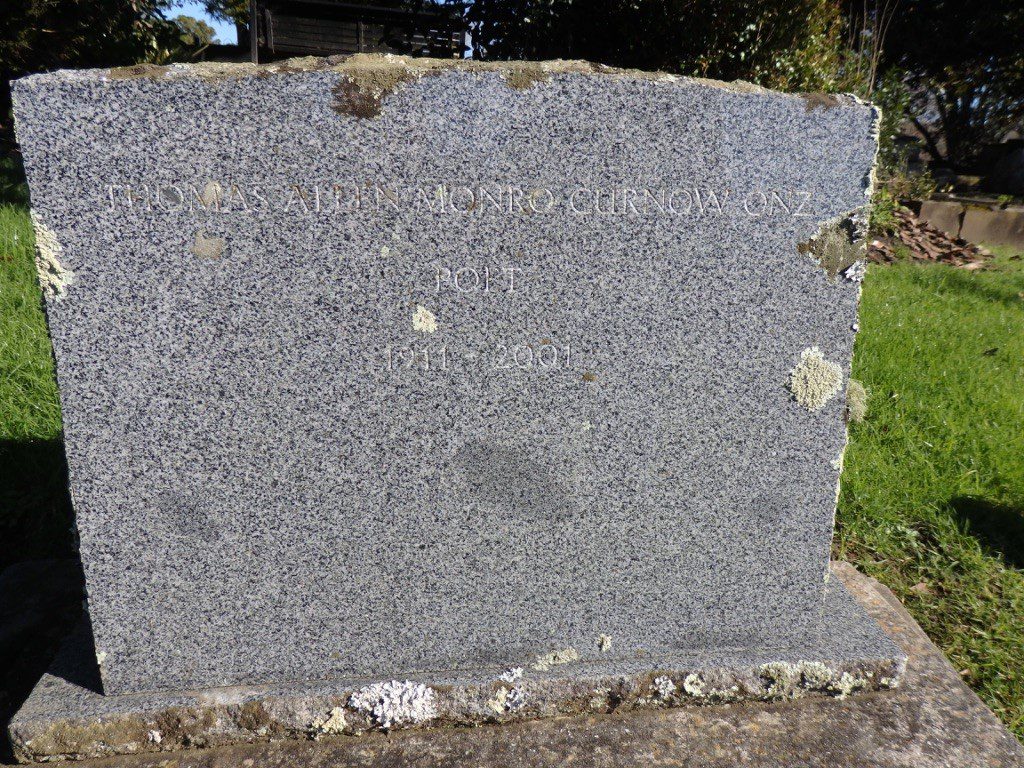 Curnow received several awards, including the CBE in 1980. In 1988/89 Curnow was judged the overall winner of the Dillon's Commonwealth Poetry competition. This award is judged by an international panel and brings together the best of the commonwealth poets. He also received the Queen's Gold Medal for poetry in 1989, the first New Zealander to be so recognised.
Curnow, Dr Thomas Allen
Died 08 June 1948
aged 90 Years
Block B Row 2 Plot 30D